Article > Have We Really Never Had It This Good?

The property press over the last week or two has been full of stories about how buy-to-let landlords have never had it so good. Tenant demand is at an all time high, BTL lenders have returned to the marketplace, and the collapse of house prices has to be good news for property investors. Doesn't it?
Landlords themselves don't think so. In Upad's monthly Rental Confidence Index, just 57% of private residential landlords said they felt more confident in the market than this time last month. The figure's the same as last month, and it's the lowest we've seen since May when we were all waiting for the Chancellor's axe to fall in the Budget.

What's going on? Are landlords just grumpy?

Where landlords have told us why they're feeling less confident, they've come up with a huge number of apparently different reasons. The economy in general is always a big feature. Landlords who've built a business around housing benefit tenants are about to see that ended in a sweep of George Osborne's dispatch box.

Tenant arrears are another problem area; around a third of landlords have faced arrears in the last 12 months. And then there are void periods. A couple of weeks ago, we saw ARLA trumpeting "the lowest average void period ever", at 3.3 weeks, down from 3.6 weeks. For a landlord with a mortgage to pay, 0.3 weeks (that's two days in old money) isn't going to save the cash flow: a void month costs the average landlord half their annual profit, so 3 weeks isn't something we should be celebrating.


Beneath all the pile of worries, there's one unassailable fact: landlords are completely at the mercy of their tenants.

With half the country worried for its job, references saying "they've always paid their rent on time" are barely worth the paper they're written on.

That's why we think that letting a property is no longer about finding a tenant: it's about finding the right tenant. Sticking a card in the newsagent's window (or an ad on Gumtree) and hoping someone calls you just isn't enough in this climate.

At Upad, we're working with our landlords to find them the tenant they want. Our landlord advisors will help you (if you want) to craft the perfect ad for your property, ensuring that when we distribute it across our huge advertising network (we deal with 950 sites, including Rightmove), you find the person you're looking for. It's the service you'd expect from a high street agent, but it comes with an online price. For £69, your property stays listed until you've found the right tenant, with nothing more to pay when you find them. And we don't charge your tenants either.

If you just need to find a tenant, Upad doesn't make you sign up for months of expensive management contract: we just find you a tenant. We'll list your property on more than 500 UK lettings sites, including Rightmove, Zoopla, FindaProperty as well as Gumtree and local media sites in your area.

For a one-off fee of £69, it stays advertised until you've found a tenant. There are no hidden extras, no fees for tenants, just your property advertised everywhere your next tenant might be looking.
Visit www.upad.co.uk to get started.

To find your next tenant CLICK HERE


My Property Power Team recommends Upad, the UK's largest online lettings agent.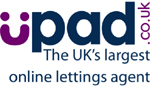 Upad's Rental Property Marketing helps you find a tenant for your rental property quickly and easily, by distributing your ad to over 500 top UK property websites. To find your next tenant CLICK HERE


Some Key Stats
* Upad.co.uk generates on average 14 enquires per listing.
* Upad.co.uk has built the largest rental property marketing distribution network in the UK
* Upad.co.uk has the largest database of private landlord customers of any online lettings business