Article > Do I Really Need to Count the Teaspoons?


How to produce a useful inventory
If you let furnished or part-furnished property, an inventory is now an essential document to protect you, and your tenant, from lengthy and potentially expensive arguments further down the line.

Once upon a time, landlords could choose not to bother with an inventory, or to keep them exceedingly brief: we once saw one for a bedsit that read, in its entirety, "bed; table; chair". But not any more. End-of-tenancy disputes are becoming more common every year, as deposit schemes mean that landlords can no longer simply insist that their version of the contents and condition of the property is the correct one. It's in everyone's interest to have the end of the tenancy concluded as quickly and simply as possible, without prolonged arguments and even expensive legal disputes. Documenting what's in the property when the tenant moves in, and what condition it's in, helps to achieve that.


Making a list, checking it twice...
An inventory should generally cover everything in the property: furniture, soft furnishings like curtains, carpets and rugs, electrical and gas appliances, and lighting fixtures. Make a note of the condition of each item, and describe any damage: this can be crucial if, at the end of the tenancy, you wish to withhold a damage deposit but your tenant denies that any damage has been caused.

Once you've created the inventory, you and your new tenant should check it together, both initialling each page of the document and signing the last page to confirm agreement. Both of you should retain a copy of the inventory through the life of the tenancy. If changes are made – for example, replacement furniture – these should be recorded as an emendation to the inventory.

So what level of detail do you need? Do you, in fact, need to count the teaspoons? I know one landlord who records light bulbs on his inventories, but then I know of more than one tenant who's moved out and taken the light bulbs with them, so I'm not altogether against the idea of putting light bulbs on an inventory.

If you've just provided a beautiful brand new set of cutlery, you should certainly record that, but if it's more like an agglomeration of bits that tenants have been leaving behind for the last twenty years, then perhaps "drawerful of assorted cutlery" would cover things adequately.

Do remember to include a description of the decor, again including its condition. Whether the ceilings were originally painted black or not can be an important thing to have recorded if there is disagreement over the return of a deposit.

Photograph damage
Listing the existence of a scratch or chip on the inventory might seem like enough for now, but three years down the line, will you really remember it? If you think the "few small scratches" on a table have turned into several large scratches, but your tenant swears up and down that it's in the same condition it always was, it's still your word against hers and the inventory hasn't really helped anyone. A photograph, on the other hand, stops all arguments.

Burn all the photographs relating to the property to a CD and keep one copy (plus a back-up) for yourself, and give your tenant another. That way it's always been part of the official documentation, and your tenant knows the record exists. This again should help to keep arguments at the end of the tenancy to a minimum.






Wear and Tear
Though landlords are entitled to make deductions from tenants' deposits both for damage and for the property being left in a dirty state, they are not entitled to do so for normal and reasonable wear and tear. Naturally, there is often disagreement between landlords and tenants as to what constitutes damage, and what is fair wear and tear. A brand new kitchen fitted at the beginning of the tenancy, for example, is never going to be returned in a brand new state at the end of the tenancy, however good care your tenant has taken of it. Tiny scratches on a worktop would be inevitable wear and tear, but larger burns, cuts or stains in the surface could be classed as damage, and the cost of a replacement worktop deducted from the deposit. Similarly, some surface wear to upholstery or carpets is normal, but a series of rips and cigarette burns would certainly be deductable. A detailed description of contents plus photographs will help to draw a fair distinction between reasonable wear and tear on the one hand, and damaged property on the other.


Do I need a professional inventory clerk?
There are companies who will prepare and check inventory for you at the beginning and end of a tenancy. These can be useful for a landlord who lives some distance from their property or out of the country altogether, but for most people, preparing an inventory is something you can easily do yourself, so long as you take the time to do it thoroughly.


Everything else you need to know
It's worth spending the time to go through the inventory with your tenant. It might be tempting to give them a copy and tell them to check and sign it in their own time, but going through things with them will stop any arguments, either now or at the end of the tenancy.

While you're checking over the property with your tenant, it's worth pointing out or listing other features they'll need to know about: water, gas and electricity meters, the stop cock and the fuse box. If you do get a burst pipe, knowing that your tenant knows how to shut the water off should give everyone a little extra piece of mind.

If you just need to find a tenant, Upad doesn't make you sign up for months of expensive management contract: we just find you a tenant. We'll list your property on more than 500 UK lettings sites, including Rightmove, Zoopla, FindaProperty as well as Gumtree and local media sites in your area.

For a one-off fee of £69, it stays advertised until you've found a tenant. There are no hidden extras, no fees for tenants, just your property advertised everywhere your next tenant might be looking.
Visit www.upad.co.uk to get started.

To find your next tenant CLICK HERE


My Property Power Team recommends Upad, the UK's largest online lettings agent.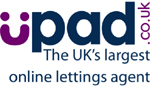 Upad's Rental Property Marketing helps you find a tenant for your rental property quickly and easily, by distributing your ad to over 500 top UK property websites. To find your next tenant CLICK HERE


Some Key Stats
* Upad.co.uk generates on average 14 enquires per listing.
* Upad.co.uk has built the largest rental property marketing distribution network in the UK
* Upad.co.uk has the largest database of private landlord customers of any online lettings business