Article > The Comprehensive Spending Review could spell trouble for landlords

The stereotype of a businessperson landlord would say they favour low taxes, smaller government spending and minimal interference from the state and we have some sympathy with that caricature. With the recent Comprehensive Spending Review (CSR), we have seen the biggest reduction in government expenditure since the Second World War and it pays to be at least a little circumspect about such dramatic changes. Landlords don't exist in a vacuum and anything that affects your tenants will also by extension have an impact on you.


Benefit cuts mean families with less money
The bulk of the spending cuts will be coming from the welfare budget and we're talking total cuts of £18bn a year by 2014 with an overall decrease of £81bn. This includes previously announced cuts in Housing Benefit and Local Housing Allowance as well as significant cuts to other benefits and tax credits. That's going to mean a good deal less money sloshing around amongst people on lower incomes. Unless you are only renting high-end properties, and that's generally quite unusual, then it's likely that the people you are letting to will have less ready cash. That could spell trouble on rent levels and also with arrears.


Cuts will slow down Councils and Courts even more
We've looked at the economy in general. But start thinking about how these cuts might affect how you run your affairs as a landlord. Do you ever have any dealings with your local authority? If you let HMOs, you certainly will and there are plenty of situations that see a landlord interacting with their local Town Hall. Councils are notoriously slow in dealing with paperwork and decisions already. The CSR cuts the grants to local authorities and requires greater efficiency and job cuts. I can't see how that's going to improve the service landlords get from their local council.

One other government department that has promised to find savings is the Ministry of Justice that administers the courts system. Whether we're talking squatters, rent arrears or anti-social tenants, getting the relevant Court Orders can take as long as six months: action needs to be taken in weeks not months. But it seems that these Ministry of Justice cuts will extend rather reduce the time that landlords have to wait for proper legal protection for their properties. That's going to cost landlords a lot of money.

Unemployment hurts everyone
The Chancellor's "best guess" regarding job losses is that these changes will add nearly half a million unemployed to the dole queue, predominantly amongst public sector workers. These job losses are already filtering through with many quango employees already receiving redundancy notices. Job losses, and even fear of unemployment, make people more fearful of making changes. It's easy to argue that's good for landlords as many people will stick to renting or move back to it until the dust settles. But in any case uncertainty in the employment market is bad news.





Do you let a student house?
Thinking more laterally, we can see that even less obvious changes in today's announcement will likely have an impact. The Higher Education budget will be slashed by 40% and the recommendations of the Browne Report implemented for university funding and tuition fees. The doom-mongers are saying that these moves will see a drop in student numbers. Any such decrease will doubtless have an impact on landlords renting to students in university towns and cities.


There may be trouble ahead
Whilst we can see the logic in some of the Comprehensive Spending Review cuts, we certainly take no pleasure in them. Such is the magnitude of George Osbourne's plan, that they must be considered carefully. We don't have the full picture yet and the devil is always in the detail. So whether you think they are right or wrong, every landlord must agree that they'll have a significant impact on the residential lettings market all over the country. And we believe that for many landlords the impact will not be good news.

If you just need to find a tenant, Upad doesn't make you sign up for months of expensive management contract: we just find you a tenant. We'll list your property on more than 500 UK lettings sites, including Rightmove, Zoopla, FindaProperty as well as Gumtree and local media sites in your area.

For a one-off fee of £69, it stays advertised until you've found a tenant. There are no hidden extras, no fees for tenants, just your property advertised everywhere your next tenant might be looking.
Visit www.upad.co.uk to get started.

To find your next tenant CLICK HERE


My Property Power Team recommends Upad, the UK's largest online lettings agent.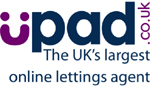 Upad's Rental Property Marketing helps you find a tenant for your rental property quickly and easily, by distributing your ad to over 500 top UK property websites. To find your next tenant CLICK HERE


Some Key Stats
* Upad.co.uk generates on average 14 enquires per listing.
* Upad.co.uk has built the largest rental property marketing distribution network in the UK
* Upad.co.uk has the largest database of private landlord customers of any online lettings business