Article> Hooray for Scotland!


One of our favourite areas personally to invest in, is Scotland!

Why?

The affordability is huge - over 80% of my buy to let properties are in parts of the country where prices are no more than 4 times the average salaries (why would I buy in areas where prices are 8-9 times the salaries, when I get houses at half this price and twice as affordable to the local market in the UK?).

This then makes the rental yields twice as good generally ie around 8-10%!

When I buy for buy to let, passive income is top of the pile, followed by potential for growth (based on local affordability - not speculative growth!)

I also like to buy where locals will live long term, as opposed to short term holiday lets, which can fluctuate depending on the economy.

Do I care what the house looks like? Colour of the carpet? How big the garden is?

Not really! All I really worry about is how much surplus cashflow the property will make me every month!

Would I prefer 100 pretty houses generating me a surplus £50 per month ie £5000 between them, or 100 ugly houses generating me £150 surplus each month ie £15,000 per month?



Hopefully the answer to that question is pretty obvious!

Experienced investors do not get emotional when they invest, they just concern themselves with the ROI, and passive income.

The other great thing about investing in Scotland, is we can get every property prevalued, so we can ensure we have the level of discount we want before we offer the properties out to investors! So we do not waste any further money on valuations!

We currently source around 6-8 deals that fit our criteria here, and I am dealing with 8 clients who are building up portfolios of up to 20 properties in Scotland over the next 2 years.

Often these deals go before I can offer them out to our subscribers, but I have had 3 in late yesterday and keen for more investors to have the opportunity to buy here!

To see our latest deals, email us at info@property-investment-deals.com or call us on 0115 9853969.

To see off market deals, and see our latest investing tips, you can sign up for free at www.property-investment-deals.com, and will also receive our free 7 part course "7 Fatal Mistakes to Avoid as a Property Investor" – read by over 40,000 investors!

To ask any questions on investing in Scotland, you can email or call on 0115 9853963 – our team in Nottingham take care of assisting with mortgages, the legals and the ongoing management and organising tenants, to make it as easy as possible for you, and we have investors from all over the UK and indeed the world buying currently!

Best Regards


Alan

PS - Finally a quick note to say we have set new dates for our FREE Property Presentations, they are - London – 13th April, Manchester – 11th May, Edinburgh – 15th June – if you would like further information or would like to book your place drop me a quick email with your best contact number and venue required, or call us on 0115 9853969.

Author Biography
Alan went to school in Dundee, before going to Edinburgh University and studying BCom (Hons) Business Studies and Accounting. He bought his first property as a student – a 4 bedroom house in a popular student area. On graduating, joined a blue chip company, was offered a manager's role after a year, and stayed for 5 years. During this time he also completed a diploma in Business Administration at Lancaster University.

Sold Edinburgh property, and with the profits bought several properties in Leeds where was based at the time. He then joined a larger blue chip company in 2002 as an operations manager. Around this time read Rich dad Poor Dad, and realised he wanted a different life! He set clear goals, and started investing further on properties.

Quit the day job in July 2004 and soon set up the website, www.property-investment-tips.com, then set up the website www.property-investment-deals.com at the start of 2005.

Since then he has carried out over 100 consultations and his team have sourced over 1000 deals for investors. Alan is considered a leading property expert and writer, and his views and articles are regularly sought in the UK and overseas.


Alan Forsyth

Full time Property Investor, Sourcer, Writer, Average Golfer, Improving Cook, Getting fitter !
For more information on our latest deals and opportunities -
email us at info@property-investment-deals.com or call us on 0115 9853969.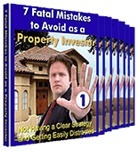 Get our free 7 part course "7 Fatal Mistakes to Avoid as a Property Investor" – read by over 40,000 investors!