Article > What First Impression Does Your Property Make?

In the world of property advertising, bad first impressions don't just last; they will ensure that second impressions are never made. If you're advertising your own property, make sure you can compete with the professionals.

When a tenant performs a search on a lettings site, the results appear in a list with only a small caption and a lead image displayed for each property. If you are able to grab the tenant's attention, they may click on your listing to see a more detailed view. The percentage of summary views that are followed by detailed views is referred to as your listing's 'click-through-rate.' Ideally, you want to increase your click-through-rate to the greatest extent possible.

How important is your lead image? Well, if it's bad, it may be the only photo anyone sees. The worst thing you can do would be to not provide any photos; eight out of the ten properties with the weakest click-through-rates on our site have no photos at all. Just one photo would increase their traffic fourfold; a second photo would raise interest in their ad by 60%.

But what should you choose as your flagship image? Let's look again at the statistics. The ten best performing properties on the Upad site tell us a great deal about what works. Nine of them have interior shots as their lead photos (including bedrooms, living rooms & kitchens). Only one has an exterior shot, and it is of a particularly charming character property.

| | |
| --- | --- |
| The top two best performing properties have a photo of the kitchen as their lead image. This is something we find is consistently the case; a good photo of the kitchen can draw more attention than any other photograph. One reason for this may be that the condition of the kitchen serves as a good yardstick for the rest of the property, allowing a tenant to see at a glance what sort of order the house is in. Another reason might be that the kitchen will become a crucial part of their comfort zone: more public than the bedroom; more intimate than the living room. We recommend that you focus extra attention on getting the best possible photo of your kitchen. | |


Now, imagine you have guests arriving at your house in two minutes. What's the first place you're going to run to, to tidy up or clean? Probably the bathroom. Why? The main reason is probably that you're worried your guests will judge your level of hygiene, perhaps your whole lifestyle, based on the condition of your restroom. And why not? A tidy person can put up with a few items out of place in a living room, or even some slightly overripe fruit in the kitchen; but a neglected lavatory hints at something more off-putting. Likewise, a good photo of a pristine bathroom can hint at the overall character of your property. As a lead image, a picture of the bathroom is not quite as good as a picture of the kitchen, but it will give prospective tenants a good idea of the property, since it contains some of the more significant expenses in fitting out a dwelling.

Although the image is what will draw the initial interest, the small caption in the summary view is your opportunity to invite the tenant into a detailed view of the advertisement. This lead caption is drawn from the first 300 characters of your description. This usually works out to around three lines of text. What you say about your property in this excerpt should be enough to sell your property, or at least sell the page beyond. Think of a newspaper article; you want to read all the main points in the first paragraph, right? The only reason to keep reading is if you want to know more details. This first paragraph should highlight as many of the property's features and unique benefits as possible. These might include a garden, balcony or swimming pool, etc.

You should try to avoid superlatives and other expressions that only serve to emphasize rather than inform. The words "fantastic first floor apartment" conjure up only the image of a first floor apartment, the word fantastic doesn't add anything to the picture. Furthermore, you might wonder, if it's so fantastic, why isn't it more expensive? On the other hand, if it's more expensive, why is 'fantastic' the best thing you can think of to say about it? Make sure you comment on the property's actual components.

The final element of your listing, as it appears in the summary view, is the price. Whether you have set the price high or low, you are asking a prospective tenant to consider your ad based on that amount. Does your caption highlight those aspects of the property which make it worth the cost? Does your lead image display the best features of a property worth its price tag? You're asking a tenant to consider paying you a weekly sum, probably more than what they were hoping to spend, take the time to write a meaningful description and take comprehensive photographs of your property.

If you just need to find a tenant, Upad doesn't make you sign up for months of expensive management contract: we just find you a tenant. We'll list your property on more than 500 UK lettings sites, including Rightmove, Zoopla, FindaProperty as well as Gumtree and Google's new property listings.

For a one-off fee of £69, it stays advertised until you've found a tenant. There are no hidden extras, no fees for tenants, just your property advertised everywhere your next tenant might be looking.
Visit www.upad.co.uk to get started.

To find your next tenant CLICK HERE


My Property Power Team recommends Upad, the UK's largest online lettings agent.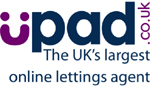 Upad's Rental Property Marketing helps you find a tenant for your rental property quickly and easily, by distributing your ad to over 500 top UK property websites. To find your next tenant CLICK HERE


Some Key Stats
* Upad.co.uk generates on average 14 enquires per listing.
* Upad.co.uk has built the largest rental property marketing distribution network in the UK
* Upad.co.uk has the largest database of private landlord customers of any online lettings business