Article > Picture Perfect

Did you know that rental ads with pictures get four times as many enquiries
as those without? If you want to avoid the dreaded void and let your
property quickly, there's no doubt that photographs are key.

Tenants have told us that the living room is what they most want to see: unsurprising, as it's the room they'll spend the most time in awake. Next most important is the garden. Even if it's just a small terrace, outside space really adds to the rentability of your property, so make sure you include a picture of it.

Choosing the right time of day to take them is one of the most important aspects to getting a good interior photo. Take them at midday, and all you'll have is glare from the windows throwing the rest of the room into shadow. Choose the early morning or later evening, when the light is softer and there's less contract between indoors and outdoors. Drawing the curtains and putting the lights on can also counteract bright light from outside. And do turn the flash off: it makes for over-lit spots and too-dark shadows. Instead, use a tripod to support the camera while you frame your shot perfectly. Ensure the camera is straight: pointing upwards or downwards can distort lines and make the room's proportions look all wrong. Someone once said that photographing interiors is "10% creativity and 90% moving furniture". Don't feel that you have to include the whole room or everything in it: it's better to have a decent picture of part of the room than a terrible picture that crams everything in.

Arty, aspirational shots of detail can be great to set the mood, but a designer doorhandle won't get your property let. Make sure you include plenty of documentary photos showing what the accommodation is actually like.

| | |
| --- | --- |
| Before you take the picture, declutter. That means tidying up: you'd be amazed how many landlords don't even bother to do that, and a picture with the previous tenant's belongings strewn across it isn't going to get anyone running round to put down their deposit. But it also means removing all the small bits and pieces, pictures, vases and mirrors, that might make the room look nice when you're in it, but can make a photograph look over-busy. | |


Some landlords with a lot of similar flats to rent out – a newly converted house, or a new-build block, for example – will use the same pictures for all the adverts. One magnolia-painted bedsit looks very like another, doesn't it? Not if you're a prospective tenant. Renters browsing through a lettings website are likely to see all your properties listed with the same photos: at best, you look like a landlord who can't be bothered, and at worst, you look like a fraudster who doesn't really have a property to rent at all. For the sake of a few extra minutes, take a picture of every rental you've got.

If you're feeling really adventurous, why not use video too? A short tour of the property can be filmed and uploaded to YouTube in a couple of minutes, but can work wonders for your viewings. It not only grabs tenants' attention, but cuts down on wasted viewings as people can take a preliminary look around right from their own living room.

Finally, assuming you're using a digital camera, take advantage of the fact. Digital lets you shoot a lot of pictures with no extra cost, so make sure you give yourself plenty to choose from so you can get the best shot. And don't forget to edit: most digital cameras come with some basic editing software that will let you crop out that coffee cup you forgot to move and brighten up a dull picture. Upad landlords can upload up to 20 pictures to each listing, so you have plenty of space to show off your property to the max.

If you just need to find a tenant, Upad doesn't make you sign up for months of expensive management contract: we just find you a tenant. We'll list your property on more than 500 UK lettings sites, including Rightmove, Zoopla, FindaProperty as well as Gumtree and Google's new property listings.

For a one-off fee of £69, it stays advertised until you've found a tenant. There are no hidden extras, no fees for tenants, just your property advertised everywhere your next tenant might be looking.


To find your next tenant CLICK HERE


My Property Power Team recommends Upad, the UK's largest online lettings agent.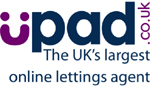 Upad's Rental Property Marketing helps you find a tenant for your rental property quickly and easily, by distributing your ad to over 500 top UK property websites. To find your next tenant CLICK HERE


Some Key Stats
* Upad.co.uk generates on average 14 enquires per listing.
* Upad.co.uk has built the largest rental property marketing distribution network in the UK
* Upad.co.uk has the largest database of private landlord customers of any online lettings business