Article > Avoid the Voids

UK landlords lose nearly £4billion every year because their rental property is standing empty. And it's not just loss of rent that hits their pockets: mortgages, service charges and utility bills still all have to be paid. If you want to make a success of buy-to-let, keeping your property's occupation close to 100% is crucial, and there are many ways that landlords can keep their accommodation earning.

Here are Upad's top ten tips on marketing your property like a professional and minimising void periods.

1. Advertise immediately your tenant gives notice.

Don't wait until they've moved out to start looking for their replacement: that just guarantees your property will sit empty for a while.


2. Be seen.

You can have the most desirable property at the lowest rent, but if no one gets to see it, it will stay empty. The days of relying on shop windows and local papers are gone: your target market is on the internet, and you should be too. 92% of tenants now start their property search on the net, so it's crucial that they can find you.


3. Advertise with photos.

Our tenants tell us the living room is what they want to see most, followed by the garden if you have one. Take several decent quality photos of all the rooms in your property and you'll generate up to three and a half times more enquiries than ads without photos. Internet advertising doesn't normally restrict the number of pictures you show with your advert, so don't skimp: photos are a window into your property for any prospective tenants.


4. What's your unique selling point?

Do your properties come with broadband, a TV license included, a cleaner or ? Maybe they should! Giving yourself a USP and emphasising it in your adverts can help generate extra interest in your properties and get them filled more quickly. We know of one landlord who fits all his student properties with Jacuzzi baths: needless to say, they're always the first rooms on campus to be filled.


5. Keep your rent reasonable.

While it might be tempting to demand the highest rent you can get away with, lowering the rent a little can help keep your property filled. So keep an eye on what your competitors are charging and price accordingly. Upad's interactive rental price index makes it easy to see what's being charged in your area right now. Rents slightly below the average can attract new tenants quicker, and mean they stay with you longer. And don't automatically increase the rent every year. With many people still reeling from the credit crunch and jobs in jeopardy, average rents in many areas aren't increasing. Putting your prices up just encourages existing tenants to wonder if they couldn't get a better deal elsewhere.





6. Ask your existing tenant to help you find their replacement.

If you've been a great landlord throughout their stay, they should have no problems recommending you to their friends. Word of mouth marketing is the best kind – personal is more convincing, not to mention that it's free!


7. Make sure your existing tenant will co-operate with viewings.

Include in your AST contracts that tenants need to co-operate with viewings; give them 24 hours notice of when you'll be conducting viewings. If you need to help them tidy up – or even hire a cleaning company as a one-off – then be willing to do this: it's in your interests.

If you have an empty property, consider "staging" it with hired or borrowed furniture. Empty properties always look a little sad: showing tenants a home, rather than an empty shell, is always going to be more attractive. Dress up the kitchen with a bowl of fruit, and the living room with a cushion or two, and everything will look much more homely.


8. Remember the outside.

The estate agent's favourite "kerb appeal" is crucial whether you're dealing with lettings or sales: the first glance at the outside of a property can be all it takes to decide if you want it or not. So keep gardens and other outside areas clean; spruce up front doors, replace damaged door furniture and add a plant or two. Keep any larger plants trimmed back: it makes outside space look bigger and again, tells a tenant the property is cared for. If there's a terrace or balcony, dress it up with plants or some inexpensive outdoor furniture, anything that will help your viewers imagine themselves sitting outside on a summer evening with a cool drink after work. If they can imagine themselves living there, that's most of your work done.


9. Complete repairs and decorating work.

If something needs fixing, or redecorating, do it before you show the property. Promises that "it'll be fixed before you move in" are worth nothing. A quick spruce-up with some fresh paint doesn't take long, and can brighten the place up for very little outlay. Plus of course the hint of fresh paint in the air does tell anyone looking around that you're a landlord who takes care of their property.


10. Every lead's a hot lead.

When you receive an enquiry from a prospective tenant, make sure you respond as soon as humanly possible. Remember, a private landlord advertising her own property is competing with professional agents who can respond to enquiries within 30 minutes, so you'll need to be quick. One trick we've found very useful is to send a text before you call a mobile, as up to 75% of people won't answer their mobile to an unrecognised number. Saying "I'll be calling you to arrange a viewing of my property" can make all the difference.

The average tenant looks at only three or four properties before they decide to rent, so getting them to view quickly can be crucial. If you only check your emails once a week, make sure you're giving out your mobile number with your ad, and be prepared to pick up even for unrecognised numbers , for a while at least. Don't let interested people move onto the next property.

To find your next tenant CLICK HERE


My Property Power Team recommends Upad, the UK's largest online lettings agent.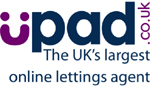 Upad's Rental Property Marketing helps you find a tenant for your rental property quickly and easily, by distributing your ad to over 500 top UK property websites. To find your next tenant CLICK HERE


Some Key Stats
* Upad.co.uk generates on average 14 enquires per listing.
* Upad.co.uk has built the largest rental property marketing distribution network in the UK
* Upad.co.uk has the largest database of private landlord customers of any online lettings business