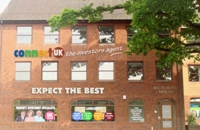 Connect UK offers a large selection of repossessions and BMV properties to all serious investors, which are usually between 10-35% discounted to current market value, achieving rental yields of 7-12% depending on location.
Connect UK is recognised as Britain's leading expert organisation in sourcing real value properties in terms of yield and purchase price. We have been working with some of UK's most successful property investors by sourcing and supplying their most lucrative property investment over the past 20 years.
1000's of property investors receive our list of investment opportunities every month hence we are renowned for our expertise in sourcing and supplying real value deals to all investors across UK.
What gives Connect UK their unique edge, is their ability to add real value to investor's property portfolio.
Our services include:
1) Sourcing and supply real value deals in terms of high yield and purchase price.
2) Supplying information on the latest listed properties at auctions, new build, BMV repossessions. We work with 100's of auctioneers supplying 1000's of properties per month.
3) Lettings and property management is an essential part of any investment strategy and organisation. Having more than 20 years experience in the investment business, we pride ourselves on going the extra mile.
4) Our in-house independent financial advisor provides suitable financial package to all our investors.
Connect UK
Richmond House
105 High Street
Crawley , West Sussex
RH10 1DD
01293 529993